Welcome to our Paris Like A Local Series — where we interview local residents like tour guides, bloggers, and small businesses to get their insider tips about their favorite restaurants, bars, dessert places, and other must-see things in their city. Because, after all, no one knows a Paris better than the people who live and work there.
In this guide, we interview native Parisian Thomas Ferre of Discover Walks in Paris.
---
What Are Your Favorite Restaurants in Paris? 
Here's a list of my favorite restaurants:
By the way, there are good restaurants everywhere in Paris. There are also many tourist traps.
How to recognize a tourist trap:
Always close to a touristic landmark, so walk another 5 minutes and start looking again.
Waiters are disguised in the old fantasy of a Parisian (stripped t-shirt, suspenders, red scarf around the neck) run away from them. Real waiters have black trousers and a white shirt or everyday clothes.
The menu is available in every language. That's not a good sign. Plus, against all odds, French people have improved their English, so they'll be able to translate (thanks to American tv shows like Game of Thrones)
Menus have many pages. Which means that the food is frozen. Real good restaurants only have about 4/5 starters, 4/5 main course, and 4/5 desserts, never more. that's the only way to keep the food fresh.
Favorite Dessert Places
l'Eclair de Génie — Without a doubt l'Eclair de Génie, a new local chain specialized in Eclairs. They're beautiful, they're delicious, there's not a chance you can resist them (14 Rue Pavée, 75004).
Berthillon — For the ice cream, there's one place and one only: Berthillon ice cream on the Island Saint Louis try the wild strawberry or the salted butter caramel (29-31 Rue Saint-Louis en l'Île, 75004).

Carette — This salon de thé (tea salon) has amazing pastries, the main room is one of the best examples of French architecture, and you get the view on the most beautiful square in Paris — the famous Place des Vosges. (25 Place des Vosges, 75003 Paris)
What Specific Foods Are Paris Famous For?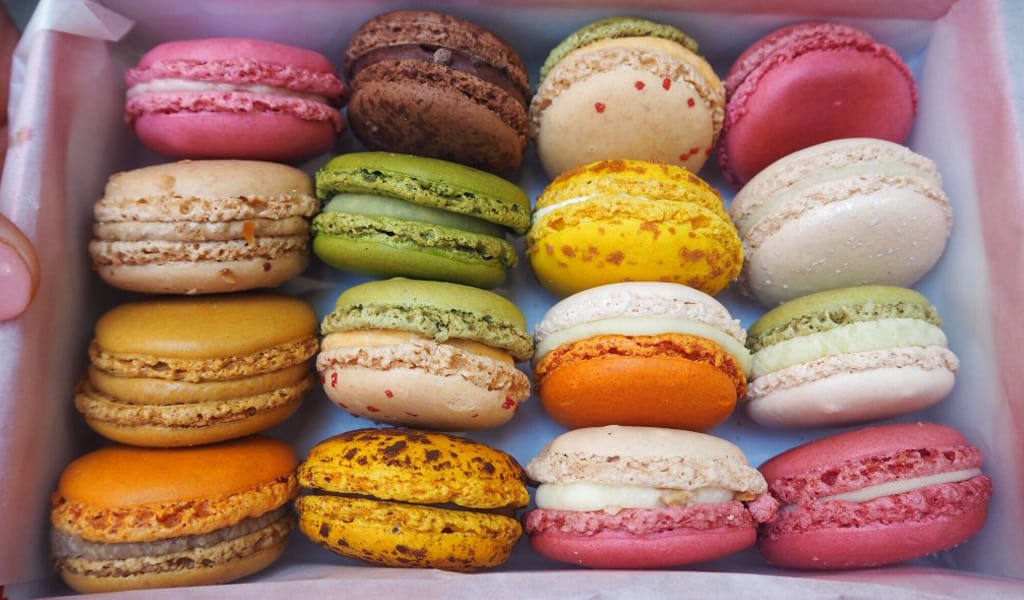 Forget the soupe à l'oignon or the pot au feu — they're way overrated. Instead, have as many croissants as you can, try the chocolate croissants everytime you walk by a boulangerie, you can't leave without trying the macarons (go to Pierre Herme or Ladurée).
For lunch our national sandwich is le jambon beurre it's in all boulangerie as well.
You can also try frogs legs or snails if you feel like it.
What Are Your Favorite Bars, Coffee Shops, Etc.?
What Neighborhood Should Visitors Stay In?

It depends on what you're looking for:
You like Boheme, poetry, cute little streets then you must stay in the Latin Quarter, next to the Sorbonne University.
You're modern, you like things to go fast and you post on Instagram you have to be in the Marais.
You're classy, you like good things and you can afford it then Montorgueil area is for you.
If you think Paris is too busy and noisy for you and you're craving to escape the city you have to run to Montmartre then and get a unique village ambiance.
What're Your Favorite Non-Touristy Things to Check-Out?
The Lutecia Arena — a hidden Roman arena hidden in the middle of Paris.
The Palais Royal Garden — a pure beauty that most people miss.
Parc des Buttes Chaumont — be sure to have drinks in Rosa Bonheur.
Tips For Getting The Most Out Of A Visit To Paris
Don't try to do too much in one day, have lots of little breaks in squares or parks for a croissant or a macaron. Take the time to observe the different ambiance of Paris. Sit at a coffee terrace and look at the crowd (that's what we do). And walk, don't use the subway too much, Paris isn't that big.
Or you can just contact me, and join one of our free tours of Paris. —https://www.discoverwalks.com/city/paris-walking-tours/
Tell Us About Discover Walks in Paris
We are a network of locally-born-and-raised guides. We know our home cities as only a native would – the landmarks and the heritage, but also the side streets, the secret spots, and the good gossip.
We started Discover Walks in Paris, in 2010, to give visitors a couple of special hours walking around Paris with a real native – the Paris a tourist would never be able to find alone, the kind of experience you would have only in the company of a good and knowledgeable friend – fun, informative and most of all, personal to you and your guide. The idea has taken hold with tourists with over 50,000 of them joining our tours in two seasons – and we expanded to San Francisco. And now to cities across Europe as well.
---
Discover Walks in Paris offers multiple tour options — including many free tours (guides work on tips). Their specialty tours start at €24. :: Website :: Facebook :: Trip Advisor ::
No Funny Business
The Savvy Backpacker is reader-supported. That means when you buy product/services through links on the site, I may earn an affiliate commission — it doesn't cost you anything extra and it helps support the site.
Thanks For Reading! — James
Questions? Learn more about our Strict Advertising Policy and How To Support Us.