We've traveled thousands of miles and tested dozens of travel products but there is one thing that finds its way into our backpacks/suitcases every trip — packing cubes.
Seriously, packing cubes have changed the way we pack and travel. They're the experienced traveler's secret weapon. These handy travel accessories help us keep all our clothing organized and they're great when you're packing light. And trust us, being able to unpack all your stuff in seconds is almost therapeutic —  especially during the chaos of travel.
In this article, we'll cover the best packing cubes on the market and then we'll give you some tips and tricks for using these super helpful travel accessories.
---
The Best Packing Cubes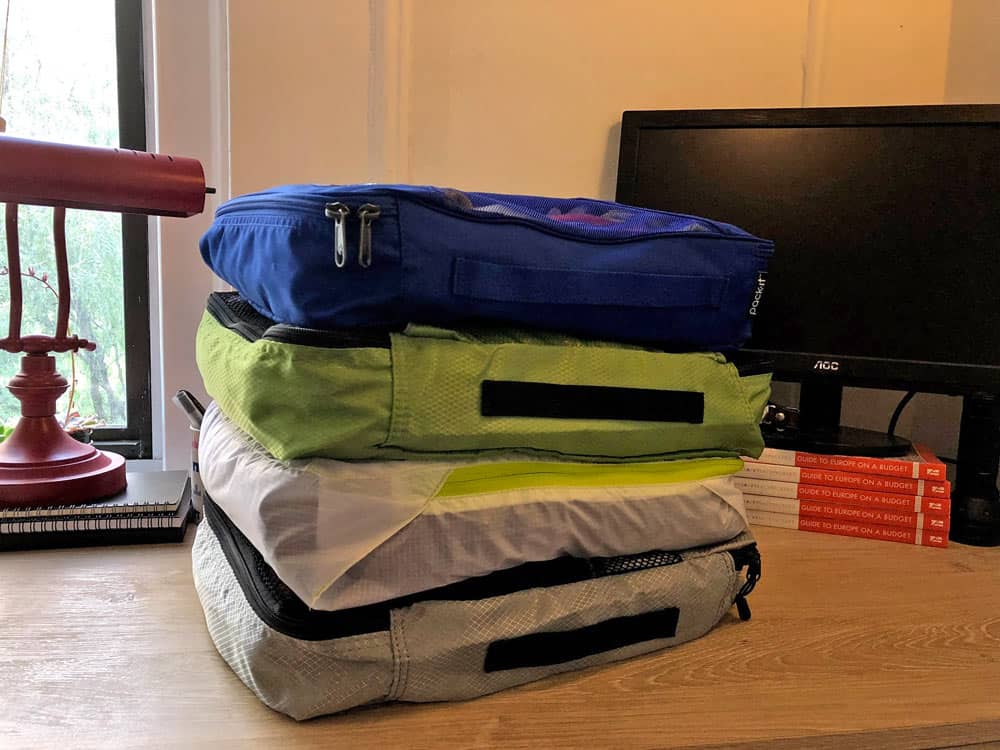 There are dozens of different companies that make packing cubes — Eagle Creek, eBags, Shacke Pak, TravelWise, Osprey, and about a million more. The problem is that there are a lot of low-quality options so we wanted to test the most popular cubes to find the best packing cubes on the market.
We've narrowed it down to our favorite four brands/styles:
Eagle Creek Pack-It Cube Set
It's pretty hard to beat the Eagle Creek Pack-It Cube set — which is why they're our overall top pick. After all, Eagle Creek essentially started the packing cubes craze and they continue to be the leader. The Pack-It Cubes come in multiple sizes but we think the Pack-It 3-Piece Set (Pack-It Cube, Pack-It Half Cube, & Pack-It Quarter Cube) is probably the best value. Each size cube in this set is perfect for travel backpacks and carry-on suitcases.
There is also a Pack-It Double Cube which is probably too large for most backpacks so it's more suited for a suitcase.
The Details
Construction: Nice overall construction and stitching — much better than some cheaper bags we've tested. We feel confident that we can overpack these and the fabric/stitching won't tear.
Fabric: Sturdy 300D Poly Micro-Weave fabric that provides a bit of structure. This extra structure also helps make zipping the cube a bit easier. Of the cubes we tested, these seem like the most sturdy.
Mesh Panel: The packs have a mesh top for visibility and breathability. The mesh is also high quality and fine enough that it will hold up to a bit of abuse.
Zippers: Zippers are smooth and are sewn well to the fabric. That said, they no longer use YKK zippers but they seem high-quality. We didn't notice any catching when zipping/unzipping.
Handle: Each cube has a nice little handle.
Colors: The bags come in a few basic colors but they randomly also come in brighter colors as well.
Sizes: Available as individual sizes or multi-piece sets. We think the Pack-It 3-Piece Set is the best value.
Warranty: Lifetime Warranty
Price: Eagle Creek Packing Cubes cost around $30 for the three-piece set. There are a few other sizes/sets available at various price points.
Check Amazon for the latest prices. 
---
eBags Packing Cubes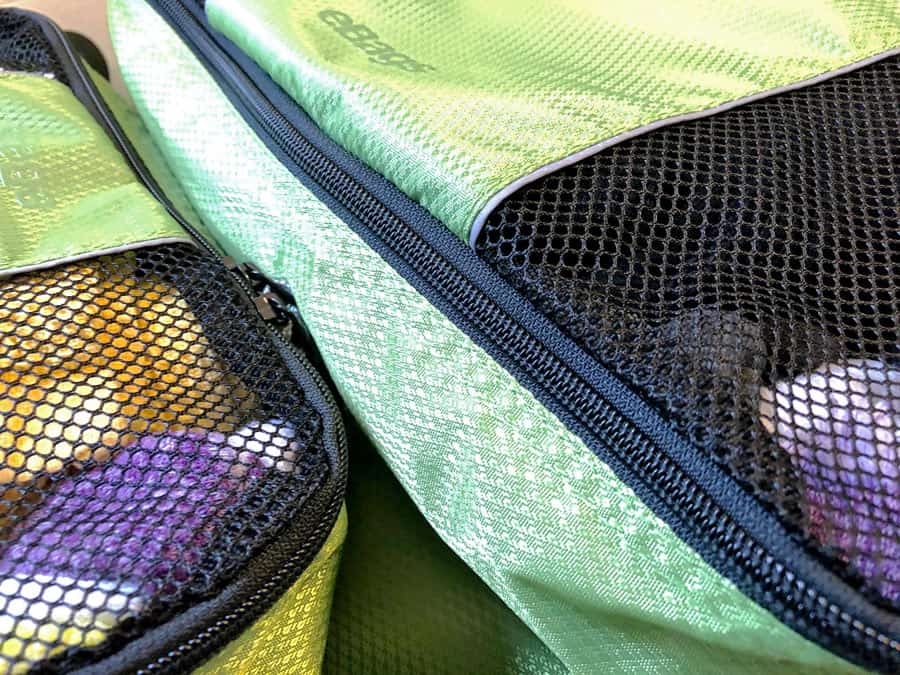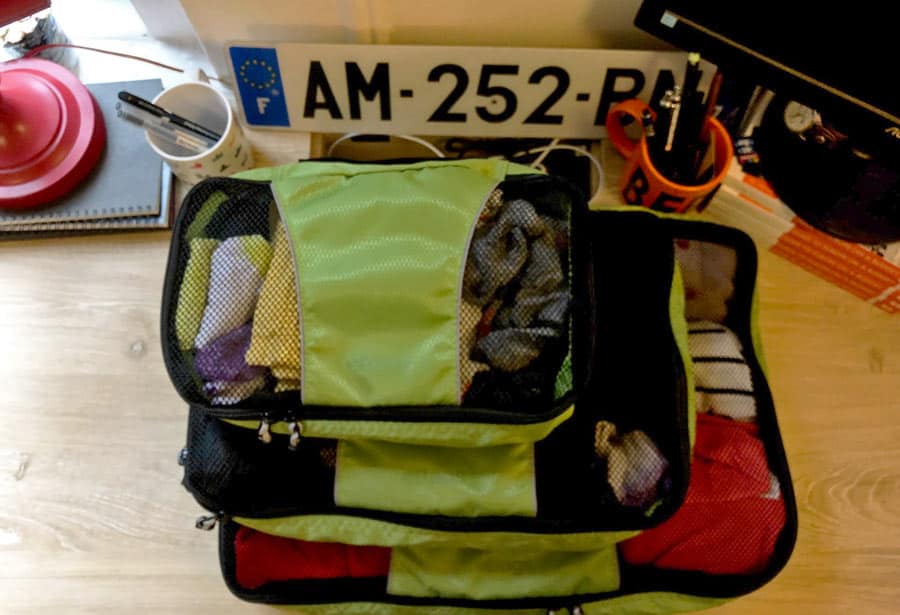 We're also big fans of eBags Packing Cubes — they're honestly not that much different than the Eagle Creek packing cubes other than a few small design differences. The fabric and mesh both feel durable so it shouldn't have any trouble holding up during your travels. We also like that the bags use YKK zippers. These also come in a three-piece set and each cube is a bit larger than the Eagle Creek three-pack.
The Details
Construction: No complaints about the overall construction. My bags were sewn well so the seams should hold up to a bit of overpacking. We did read some reviews from people mentioning that their seams ripped — but we didn't experience any issues.
Fabric: These bags are made from durable TechLite Diamond Nylon. The material is slick but a bit crinkly. The fabric offers a bit of structure so packing it is still simple.
Mesh Panel: These cubes have a mesh top for visibility and breathability.
Zippers: The zippers are made by YKK so that's great. We didn't have any issues zipping/unzipping the bag and everything was smooth.
Handle: Each cube has a nice little handle.
Sizes: The main three-piece set comes with a large, medium, and small cube.

The large cube is pretty large so we kind of wish it came with two medium cubes instead. This cube can be good for bulkier items like sweaters, jeans, etc. but we can see how some people might have trouble filling the large cube.

Colors: These packing cubes come in multiple colors. Some people prefer brighter colors so they stand out inside your bag.
Warranty: Limited-Lifetime Warranty
Price: The three-piece eBag Packing Cubes set costs around $30. There is also a four-piece for $40 and a six-piece set for $50.
Visit Amazon to see the current prices/selection.  
---
Eagle Creek Pack-It Specter Tech Packing Cube Set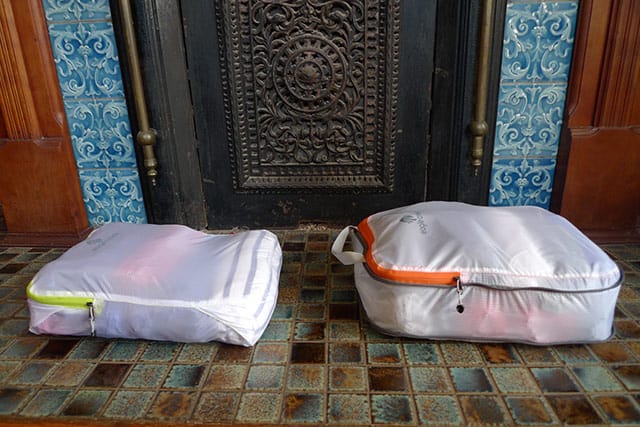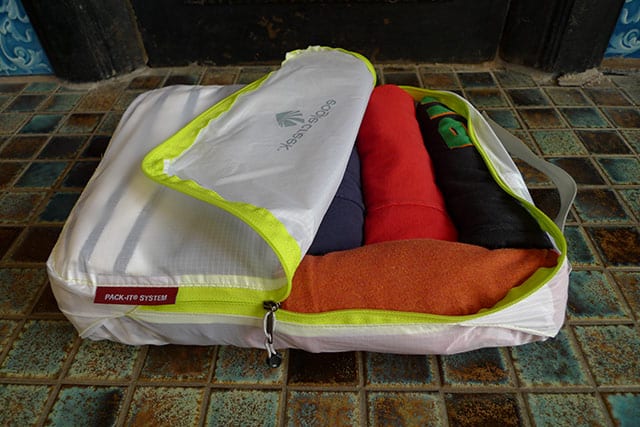 Back to Eagle Creek for their Pack-It Specter Tech Packing Cube Set. These are different than the previous two sets because they're made of crazy-lightweight ripstop Nylon — which means they're half the weight as the Original Eagle Creek Cubes and the eBags cubes. These bags don't have any structure but they're still fairly easy to pack. The fabric is actually surprisingly durable and it has the benefit of being water resistant. The main downside is the price as they're more expensive than the other packing cubes on this list. That said, we really do like these bags but we're not sure if it's worth the extra cost.
The Details
Construction: The construction is nice and lives up to what you'd expect from Eagle Creek. The stitching on the seams looks to be high-quality.
Fabric: A first look the ripstop Nylon does seem like it would be fragile but it's actually very sturdy — we were able to cram a lot of stuff inside without fearing it would rip. The material is also slightly translucent so you can see what's inside the cubes.
Zippers: The zippers are smooth and feel like they're high-quality.
Handle: There is a pull handle at the top of the bag.
Sizes: Pack-It Specter Packing Cubes come in sizes Extra Small to Large.

They also have a dirty/clean version that has two sides so you transfer clothes from the clean side to the dirty side. It's a nice, but not necessary, feature

Warranty: Lifetime Warranty
Price: The three-piece set usually costs around $40 for the XS/S/M version. The S/M/L version is around $55. There are a few other variations and single sizes as well.
Check out Amazon for prices and selections.
Note: There is an older version called the Pack-It Specter Compression Packing Cubes — these are essentially the same packing cubes but they have an extra zipper that offers slight compression abilities.
---
AmazonBasics Packing Cubes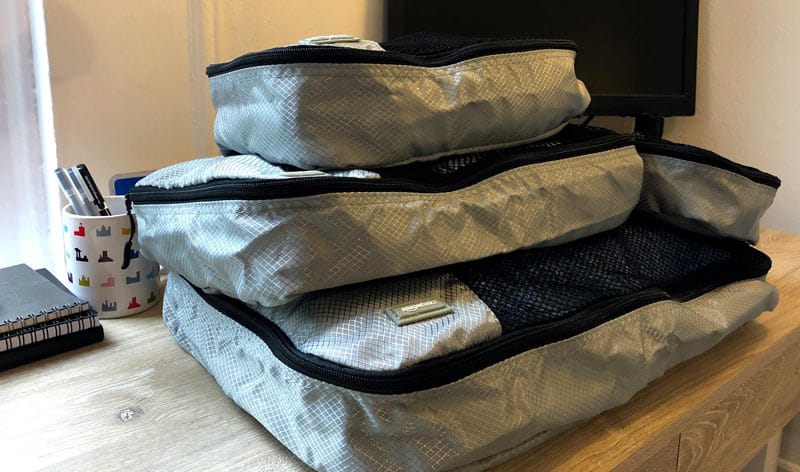 On a budget? Check out AmazonBasics Packing Cubes. The material and construction aren't as good as the other packing cubes on this list but they're only around $20 for a set of four packing cubes.
Note: Some people said that the colored cubes bleed color when wet so we'd stick with black or grey.
The Details
Construction: The overall construction isn't terrible but you can tell that they're not super well-made. The mesh is decent but we can see how the loose weave it might rip after a few trips.
Fabric: The fabric is nylon. It's a bit crinkly but feels decent.
Zippers: The zippers are a little rough and they sometimes get stuck when the cube is full.
Handle: There is a pull handle on the side of the bag.
Sizes: The main set comes with four sizes — slim, small, medium, and large. The large is actually very large and probably wouldn't fit in a backpack… so it's kind of useless for a lot of people.
Price: The AmazonBasics Four-Piece Packing Cube set costs around $20-$24. Check Amazon for the latest prices and color options.
---
Packing Cubes: The Basics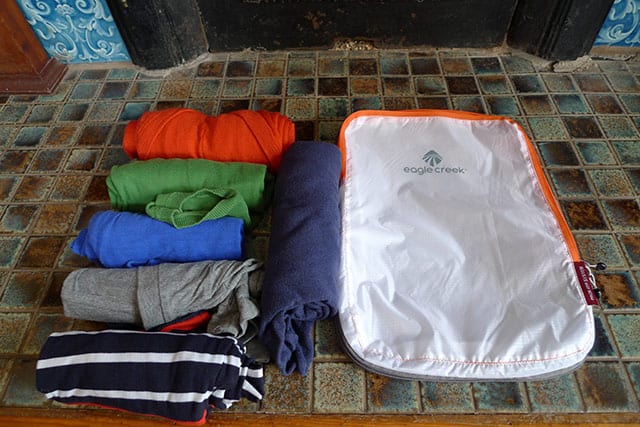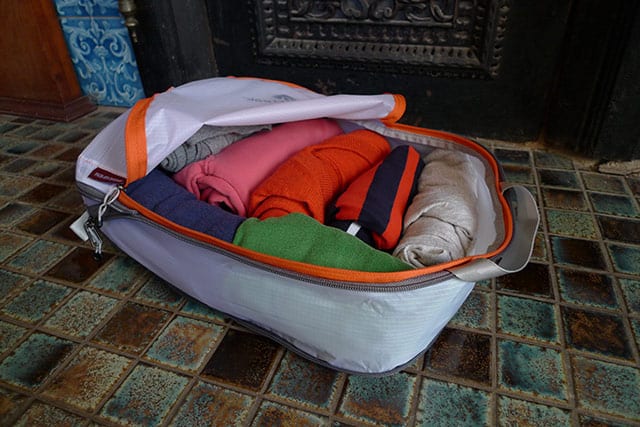 A packing cube is a thin, soft-sided bag that helps you organize and compartmentalize your clothes and other accessories. Ideally, you fill each bag will the same types of clothing for maximum organization. For example, all t-shirts go in one, underwear and socks go in another, etc. You can even pack gadgets like cords and small electronics in them.
Other people pack their cubes by outfit but that requires a little too much planning for us.
Then you pack the packing cubes inside your backpack or suitcase. This way you can easily get to what you need without having to unpack and riffle through all your stuff. If packed correctly, packing cubes can also help reduce the amount of space your stuff takes up and can help reduce wrinkles.
The Benefits Of Packing Cubes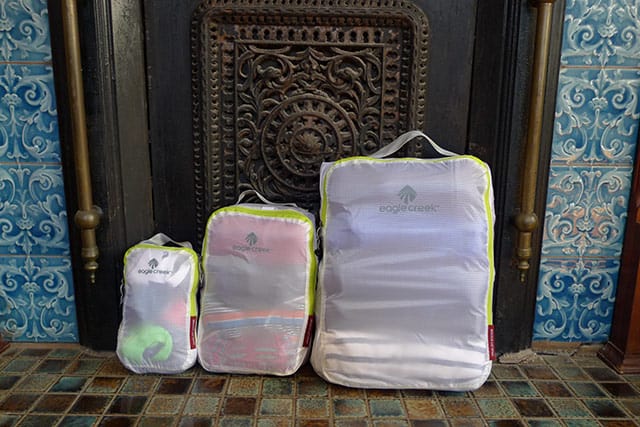 Alright, let's talk about why we're big fans of these handy travel accessories.
Organization
The best thing about packing cubes is the organization — especially when you're traveling out of a backpack. We like to pack each type of clothing in its own cube. For example, we'll put all t-shirts in a cube and then we'll put all socks and underwear in another. This way, you can quickly pull out that cube when you need something.
Without packing cubes, you have to rummage through all your stuff to find what you're looking for. It may not seem like a big deal now but we can't travel without them now.
Space Savings
Packing Cubes help keep clothing "bundled" and compressed – which reduces how much space your clothing takes up. This is very helpful if you're traveling with a single backpack because it allows you to fit more in a smaller space.
Wrinkle Reduction
Packing cubes can also help reduce wrinkles in your clothing. That's because one major cause of wrinkles is from your clothing shifting around in your bag as you move. However, packing cubes keep things compresses — which prevents movement. There are also other packing techniques that help with wrinkles and we'll cover that later.
Fast Unpacking
One of the best things about packing cubes is that you can take all the cubes out of your bag when you arrive at your destination. You're essentially unpacked in 30 seconds. Some people will place the cubes directly in the drawers and then stow their bag out of the way (super handy in small spaces like hostels/hotels or apartments).
Repacking is also easy because you already know where everything goes so you can get repacked very quickly.
---
How To Use Packing Cubes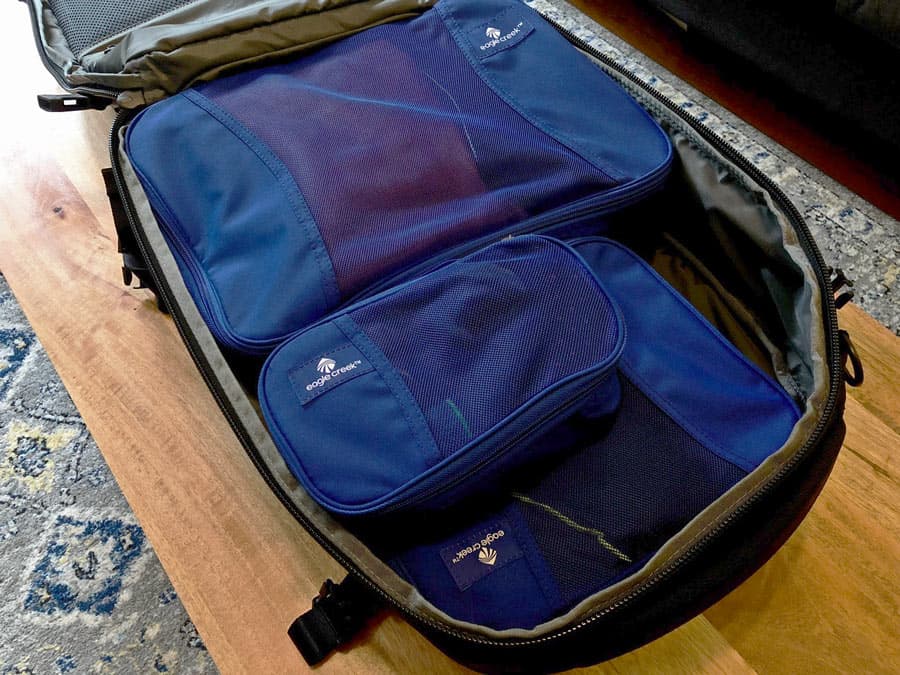 Using packing cubes is pretty easy but there are few techniques you can use to make your packing even easier and help reduce wrinkles.
Divide Clothing
First, divide your clothing into like items.
We usually do something like this:
Socks and Underwear
T-Shirts
Button-Up Shirts
Pants/Skirts
Jackets, Outerwear, etc.
Fold, Bundle, & Roll
Next, we'll prepare clothes to be packed into the packing cubes. There are a few different techniques and we'll cover a few of our favorites.
1. Fold Technique

The Fold Method is the most simple method and it works well for things like t-shirts, button-ups, and pants. The idea is simple — just fold your stuff like normal and put them in the packing cubes. You can actually fit a good amount of stuff with this method.
We find that medium-sized packing cubes work best for this method.
2. Bundle Technique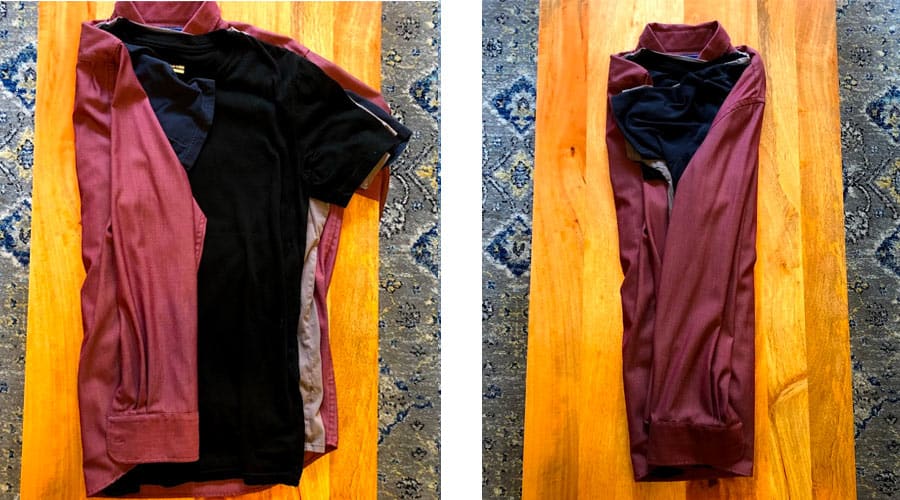 The Bundle Method is similar to the Fold Method but instead of folding each item individually, you stack multiple items together and then fold them all at once. It works well with shirts and pants.
There are two main benefits to this method: First, you only have to fold things once instead of multiple individual items. Second, having multiple layers stacked together helps reduce wrinkles because the bulk of the extra layers creates softer creases.
We find that medium-sized packing cubes work best for this method.
3. Roll Technique
The Roll Method is very popular and it's a great way to vastly reduce the amount of space your clothes take up. Basically, you tightly roll each item. We find this works best for things like t-shirts, socks, and underwear but some people roll all their clothes.
That said, we're usually too lazy to use this technique on shirts and pants but it's probably the most efficient packing method if you have the time/ patience.
---
Other Packing Aids
Packing cubes aren't the only things that help keep you organized — here are a few more things…
Packing Folders
Packing folders are like packing cubes but they're so they're better suited for pants, sweaters, and button-up shirts. We really like the Eagle Creek Garment Folders — they come in multiple sizes and colors.
Toiletries Bags & Containers

Find yourself toiletry bag that can be hung up. Most European bathrooms are small and may not have much (if any) no shelf space. A hanging toiletry bag will save you a lot of hassle.
Here are a few of our toiletry favorite bags:
The Ogio Doppler Kit (via Amazon).
The Lewis N Clark Hanging Toiletry Case (via Amazon).
The Davidsbeenhere Hanging Travel Toiletry Bag (via Amazon).
Again, don't spend too much. Just find something that will work. If nothing else, you can use a plastic bag.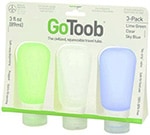 Another way to travel light is by transferring your shampoo, conditioner, body wash, etc. into travel-sized bottles.  We love the Humangear GoToob Travel Bottles since they're probably the best travel bottles for shampoo and other liquids/gels. They get a ton of great reviews for being the one travel tube brand that doesn't leak — but they are a bit pricey. Be sure to check out their website for a list of liquids that they're not compatible with. A three-pack cost about $17-$25 depending on the size of the bottles (via Amazon).
PLASTIC BAGS
Ziploc bags are great for storing multiple things and keeping liquids from spilling over all your stuff (we like to keep my passport in a plastic bag for safekeeping). They're great for dirty or damp clothes. If you bring two pairs of shoes we suggest putting the other pair in a plastic bag so your clothes won't get dirty.
Ziploc makes multiple sizes of bags, so I like to pack multiple bags just in case I ever need one. There is even a three-gallon bag that works well for storing an extra pair of shoes so you don't get your clothes dirty.
COMPRESSION BAGS
A compression stuff sack is nice for keeping dirty clothes away from your clean clothes, and it serves as a good bag for doing laundry. Multiple companies make them and they run about $10-$40 depending on the size (via Amazon).
---
More Packing & Gear Guides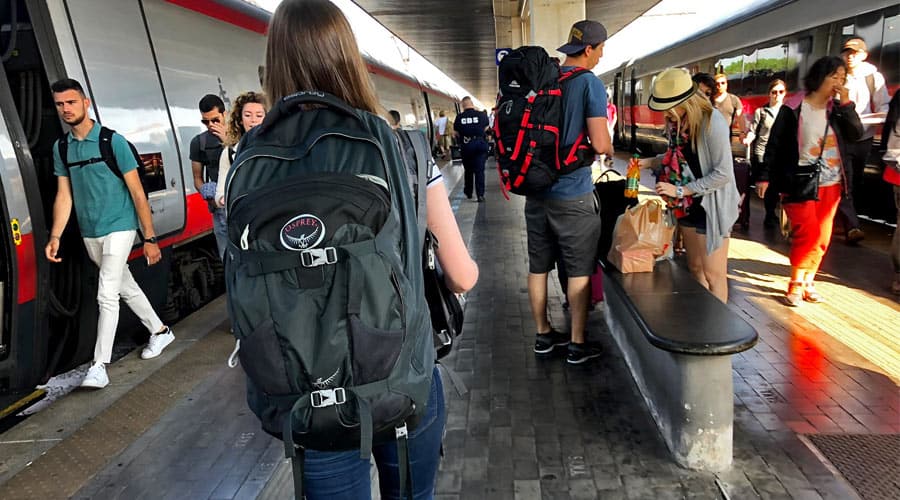 We're always on the hunt for the best travel gear. Here are a few guides to help you pack lighter and travel smarter.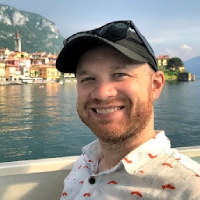 Latest posts by James Feess
(see all)
No Funny Business
The Savvy Backpacker is reader-supported. That means when you buy product/services through links on the site, I may earn an affiliate commission — it doesn't cost you anything extra and it helps support the site.
Thanks For Reading! — James
Questions? Learn more about our Strict Advertising Policy and How To Support Us.