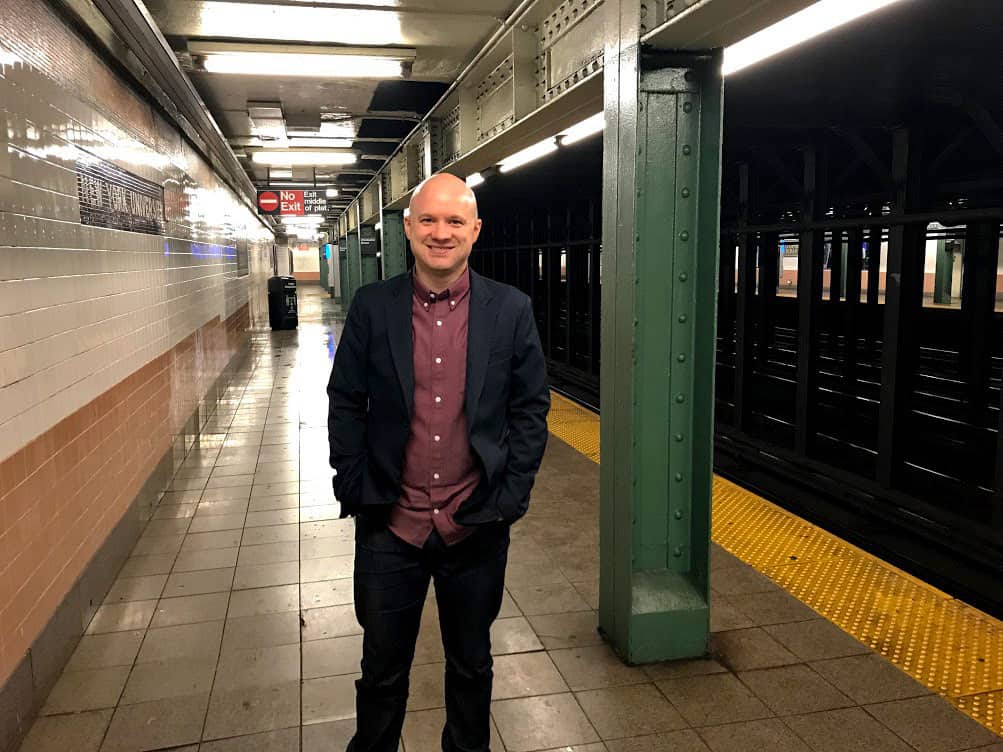 I'll be honest, I never thought I'd want to wear a blazer — especially while traveling. But I'm in my 30s now and I kind of like looking a little more "put together" while traveling. So when I saw this new Bluffworks Gramercy Travel Blazer I was intrigued to see how well it performed and if it lived up to the hype I've been reading online.
So let's get on with our Bluffworks Travel Blazer Review!
Bluffworks Travel Blazer Review

Bluffworks says their Gramercy travel blazer won't wrinkle, it's breathable, it's machine washable, and can be tumble dried (i.e. no dry cleaning required). I wanted to see if I could actually carelessly shove this blazer in a backpack for a week, wear it multiple times, and still have it looking nice. So yeah, I had to test it out.
At this point, I've owned the Bluffworks travel blazer for a few months and have worn it multiple times. I feel like I've done a pretty good job of putting it to the test — especially from the POV of a traveler. And I'm pretty damn impressed.
First, let's look at the specs…
The Tech Specs
100% technical, breathable quick-dry polyester that feels like wool. Mechanical stretch.
Machine washable. Line or tumble dry.
Lightweight 5.99 oz. fabric
Never fall off, MMS thread-wrapped buttons.
Polyester, perforated back lining. Unlined sleeves.
10 total pockets, including zippered storage for security and hidden cash/credit card pocket.
Designed and manufactured in New York City.
The Sizes/Styles
Colors: Blue Hour, Gotham Gray, Northwest Gray [They also have matching pants]
Chest: 36, 38, 40, 42, 44, 46, 48
Fits: Classic or Slim
Lengths: Short, Regular or Long
Fabric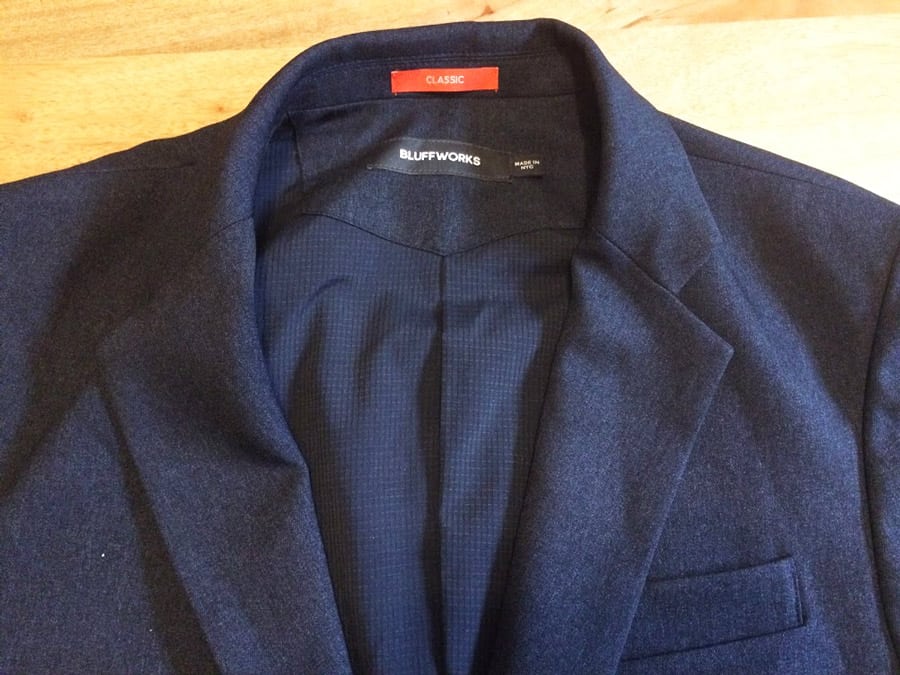 The Gramercy Travel Blazer is designed to be a performance blazer (i.e using performance fabric) but it looks like a normal, everyday wool blazer. I love the fact that it doesn't look like "travel" clothing.
The actual fabric is polyester — they call it engineered polyester. However, it does look and feel very similar to wool. It's soft, doesn't really have any polyester "sheen" to it, and it has a bit of stretch. It also doesn't make that polyester "swish" noise when you move. I can see myself passing this off as a legit suit jacket and don't think anyone would look twice.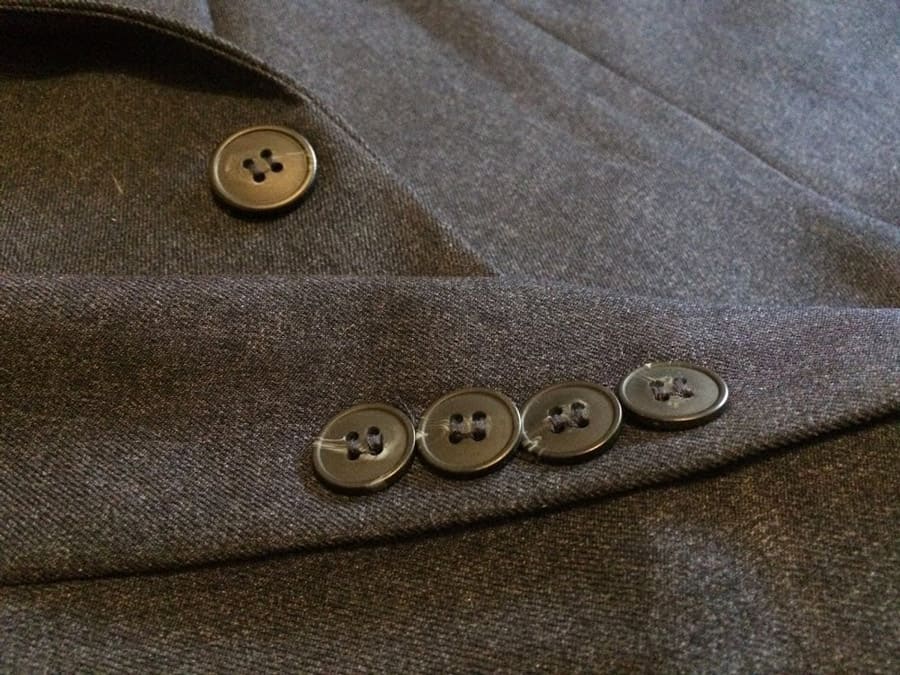 So what are the benefits of polyester? It's durable. It resists wrinkles. It dries quickly. It's a really good material for travel (especially since this particular fabric feels similar to wool). This material also has a bit of stretch to it — which adds to the overall comfort.
I found the blazer to be surprisingly breathable and lightweight. Would I want to wear it in the middle of a hot summer day? Probably not (but, to be fair, I'd be uncomfortable in anything heavier than a t-shirt). However, it'd be perfectly fine on a summer night or during the spring or fall. On the other hand, I know there are guys who wear it while biking to work in the summer and wear it in muggy South East Asia — which is something you'd never do in a normal wool blazer.
Style and Fit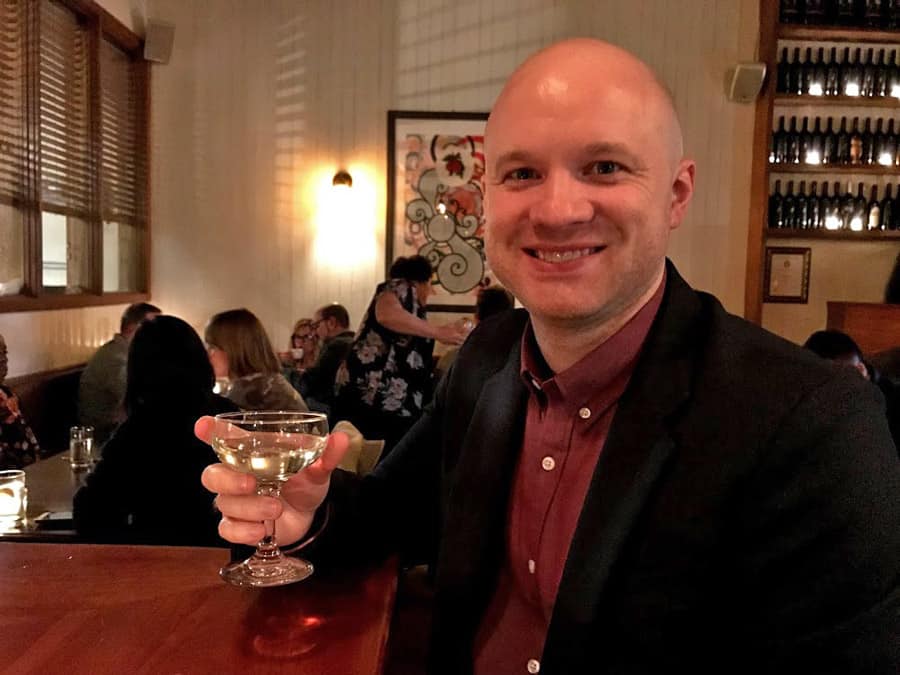 One thing that separates the Bluffworks blazer from others is the fact it actually comes in suit sizing (i.e. not just small-large). The chest size comes in 36-48. The length options are short, regular, and long. And they come both classic or slim fits. That's awesome and it's possible to look great with no/minimal tailoring.
Furthermore, the blazer also comes in three color options (Blue Hour, Gotham Gray, Northwest Gray). I went with Blue Hour which is a nice looking and very versatile navy blue. I also like the Gotham Gray.
As I mentioned before, the blazer looks like a normal suit jacket. I'd say it straddles the line between casual and dressy— which makes it very versatile. It can be worn casually with jeans and smart sneakers. You can dress it up a bit more with khakis/dressy pants. Or you can pair it with the matching Bluffworks Gramercy Pants for a more formal/dressy look.
I ordered the regular fit as read that slim was actually slim (and I'm not very slim). That said, the regular fit isn't super boxy so it still looks nice and fitted.
Wrinkle Resistance

The Bluffwork Travel Blazer's claim to fame is its ability to resist wrinkles (no fabric is truly wrinkle-proof). To test this, I literally wadded it up and shoved it in a backpack for a week.
After I took it out there were a few very minor wrinkles but they worked their way out quickly once I put the blazer on. Other users have mentioned taking the blazer into the bathroom while showering and letting that "steam out" any minor wrinkles.
Pockets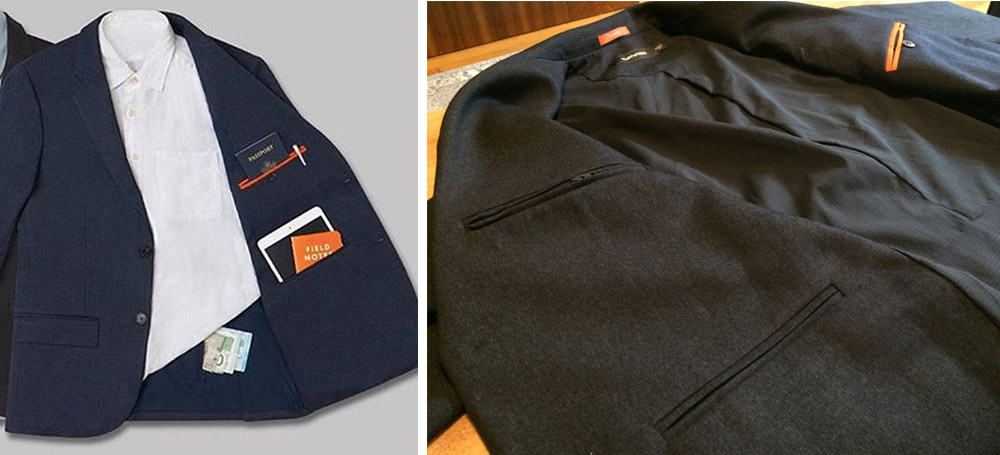 One key feature of this travel blazer is the number of pockets — there are a total of 10. There multiple interior pockets and many of them are zippered. This is a nice added layer of protection against pickpockets.
There are a few pockets that are big enough for an iPad Mini or a small book.
There is a hidden pocket on the back that's good for storing extra cash.
Of course, if you load your pockets down with big/heavy/bulky items the jacket will get some funky bulges but things like phones, wallets, passports, spare cash, etc all fit perfectly (and inconspicuously).
Construction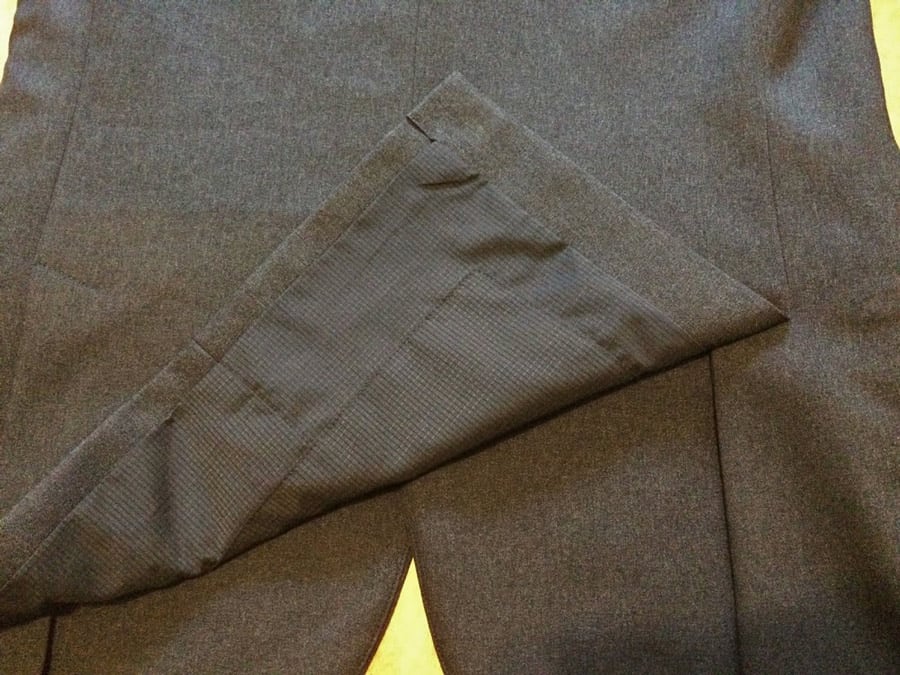 The overall construction feels really nice so no complaints there. The jacket is partially lined so there is a lining in the body but not in the sleeves.
Not having lined sleeves can be a bit of a pain since your shirt sleeves can bunch up easier when putting on the jacket. This is a fairly minor complaint… and on the plus side, it does make the jacket a bit lighter and more breathable.
Speaking of breathability, there is a perforated back lining that also helps the jacket breath.
Ease of Care
The blazer machine washable. I've washed mine a few times and it looks the same as when I first got it.
It can also be dried in the dryer. They say to put it in the dryer for about 10 minutes on medium heat and then let it air dry for a few hours (it took mine about 8-9 hours to dry). If you don't have access to a dryer then it will probably take about 12 hours to dry — which is still pretty good.
Matching Pants and Shirt

The Gramercy Blazer has matching Gramercy Travel Pants that come in the same colors as the blazers.
They also make their Meridian Dress Shirt shirt that looks great on its own or with the blazer.
Price
The Bluffworks Gramercy Blazer costs $295 (free shipping). For a budget traveler, this is kinda expensive. But if you want to wear a blazer while traveling then this is a great choice — and I think it's worth the cost. Plus, this jacket can take a beating so it's going to last a long time.
And, of course, you can wear this blazer any time since it looks nice — so you don't have to relegate it for only travel.
Final Thoughts

This blazer is really for anyone who wants to add a little sophistication to their wardrobe. But, at the same time, it's for dudes who don't want to fuss with clothes that require special care. And it's not just for travel. I know people who wear this to work (myself included).
It's especially great for schlubs like me who can't be bothered to fuss over taking good care of their clothes. I've shoved this blazer into a backpack for about three weeks and it still came out looking normal. I've worn it with my travel backpack and I haven't noticed wear on the shoulders. I've machine washed and dried the blazer multiple times and it still looks nice.
I think the cut of the blazer is nice, flattering, and modern. I like how it comes in multiple size combos so you can find one that fits well off the rack.
It is a bit expensive but it seems to be something you can wear for a long time.
Buy the Gramercy Travel Blazer via Bluffworks
Quick Background of Bluffworks
Bluffworks has been making travel clothing that actually looks nice for the past few years (they got their start after a super successful Kickstarter campaign). We've reviewed their travel pants way back in 2013 [see the review here] and we've been fans ever since. As mentioned previously, their clothes look like normal clothes you'd wear every day — which is essential in our book.
Everything they produce is designed to be durable, wrinkle-free/highly resistant, quick-drying, and able to be worn multiple times before washing. By the way, they currently offer a few different items — including shirts, travel pants, and the blazer (with matching pants).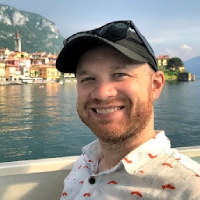 Latest posts by James Feess
(see all)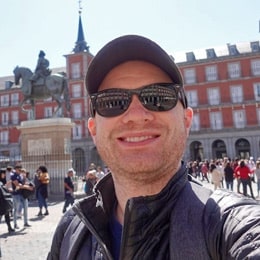 No Funny Business
The Savvy Backpacker is reader-supported. That means when you buy product/services through links on the site, I may earn an affiliate commission — it doesn't cost you anything extra and it helps support the site.
Thanks For Reading! — James
Questions? Learn more about our Strict Advertising Policy and How To Support Us.